Introduction

Elf Bar 600 Flavours: Fruit


Elf Bar 600 Flavours: Fruit Ice

Elf Bar 600 Flavours: Beverages

Elf Bar 600 Flavours: Sweet

Elf Bar 600 Flavours: Classic

Which Elf Bar Disposable Vape Flavours Are Right For You?

Elf Bar Flavours at myCigara
Prepare to embark on a flavour-filled adventure with my Elf Bar 600 Flavour Guide! This guide will act as your trusty companion as you navigate through the delectable assortment of all 47 Elf Bar flavours.

It's no secret that Elf Bar vape is dominating the disposable vape scene, rapidly climbing the ranks to become the best selling brand in just a few short years. Their secret weapon? An unbeatable lineup of flavour profiles that covers every end of the taste spectrum, allowing you to tailor your experience to your unique cravings.

With a whopping 47 different blends to choose from, there's sure to be an Elf Bar 600 flavour to suit your needs. Covering everything from vibrant fruit blends to the stripped-back classics, from juicy fruits to indulgent desserts, and refreshing menthols to irresistible classics, there's an Elf Bar 600 flavour waiting to become your next obsession.

In this guide, I'll give you the lowdown on all 47 flavour blends and spill the beans on what makes each flavour unique. So, if you're ready to discover the nuances, complexities, and sheer delight of each blend, you're in the right place.

Just a heads up: we're diving deep into the Elf Bar 600 series exclusively, so flavours from other Elf Bar disposables won't be making an appearance here. But fear not, flavour seekers, because by the time we're done, you'll have no trouble finding your ultimate go-to Elf Bar 600 blend. So, without further ado, let the flavour fiesta begin!
Elf Bar 600 Flavours: Fruit
If you're craving a vape experience that's fresh, vibrant, and perfectly balanced with a touch of sweetness, look no further. Elf Bar fruit flavours are here to satisfy your taste buds with a burst of mouthwatering goodness. From tangy and zesty sensations to luscious and naturally sweet blends, Elf Bar has curated an extensive selection of fruity favourites just for you.
A trifecta of fruity goodness, combining the sweet juiciness of blueberries, the tartness of cranberries, and the rich depth of cherries.
BUY NOW
Elf Bar 600 Flavours: Fruit Ice
Get ready to experience a frosty fruit frenzy with Elf Bar Fruit Ice profiles! These icy cool creations take the vibrant flavours of their popular fruit blends and infuse them with a refreshing blast of menthol. Brace yourself for a thrilling combination of sweet, tangy, and cool sensations as you explore a range of fruit flavours chilled to perfection.
Elf Bar 600 Flavours: Beverages
Prepare to quench your thirst with a collection of flavours inspired by your favourite beverages. From tantalising tea blends to invigorating coffee creations and delightful soda sensations, Elf Bar has crafted a range of vape flavours that will transport you to your favourite drink experiences. Get ready to sip, vape, and indulge in the familiar and delicious tastes of your beloved beverages.
Ice Latte:
Russet Brown Elf Bar
Rich and velvety notes of espresso, perfectly balanced with a touch of sweetness and a refreshing coolness.
COMING SOON
Vanilla Coffee:
Light Brown Elf Bar
Rich and aromatic notes of freshly brewed coffee, enhanced by the smooth and luscious undertones of vanilla.
COMING SOON
Elf Bar 600 Flavours: Sweet
Prepare to satisfy your sweet tooth with Elf Bar's delectable range of Sweet profiles! This collection is a haven for those with a craving for irresistible sweetness, featuring an array of flavours that will transport you to a world of sugary bliss. From sinfully rich desserts to mouthwatering candies and more, get ready to indulge in a symphony of delightful sweetness with every delightful puff.
A big and bold blast of sweet, gooey minty goodness, pairing fluffy Cotton Candy with a menthol kick.
BUY NOW
Raspberry Cheesecake:
Burgundy Elf Bar
Smooth and velvety cheesecake notes, perfectly complemented by the burst of fruity raspberry goodness for a dessert-inspired blend.
COMING SOON
A classic summertime cooler, any time of year, pairing fragrant vanilla ice cream with bright, juicy strawberry.
BUY NOW
Elf Bar 600 Flavours: Classic
Step into the timeless realm of Elf Bar Classic profiles, where tradition meets exceptional flavour. This collection pays homage to the tried-and-true classics, offering a range of profiles that capture the essence of beloved and iconic flavours. From smooth tobaccos to invigorating mints and more, prepare to embark on a journey that celebrates the enduring appeal of these timeless tastes.
Cuba Tobacco:
Chestnut Brown Elf Bar
Capturing the essence of fine Cuban cigars with its rich and distinctive character, this blend features the sophisticated flavours found in the heart of Havana.
COMING SOON
What our customers think.....
Alex, United Kingdom
Elf bars are the best, this is a lovely flavour, combined with a decent throat hit, quite similar to smoking cigarettes.
Reece, United Kingdom
Fast deliveries and a great range of products! I will continue to use them as my go to places for vapes!
Ali S, Walsall, United Kingdom
Always happy with my purchases from you. Will always order from you. Thank you
Ebony Murombe, United Kingdom
I ordered 5 Elfbar's of different flavours on Wednesday and I received my order on Saturday which was great. The flavours are lovely. Free delivery and great value for money. I would certainly recommend ordering from this company
Which Elf Bar Disposable Vape Flavours Are Right For You?
Finding the perfect Elf Bar disposable vape flavour can be an exciting yet daunting task, given the incredible range of options available. To keep things as simple as possible, I've divided this guide into 5 key Elf Bar flavour categories; Fruit, Fruit Ice, Beverages, Sweet and Classic, allowing you to skip straight to your preferred taste and pick out your next go-to blend.

With Elf Bar's diverse range of flavours included in their 600 collection, there's a profile to satisfy every craving. Remember, the right Elf Bar flavour is ultimately a matter of personal taste. Consider your flavour preferences—whether you crave the freshness of fruits, the sweetness of desserts, the familiarity of classics, or the excitement of unique blends. Don't be afraid to explore different profiles and let your taste buds guide you.

Keep in mind that Elf Bar continually introduces new flavours, so be on the lookout for exciting additions to their lineup. And if you're still unsure, try out our exclusive mix and match 5-for-£20 bundle deal on all Elf Bar 600 disposables to sample a range of flavours and discover your favourites.

Keen to find out which Elf Bar flavours are considered the best? Head over to my Top 5 Elf Bar Flavours blog to see our handpicked fan-favourite blends, allowing you to skip straight to the cream of the crop. If you're after something more discreet, take a look at the Elf Bar Cigalike Flavours Guide to discover all of the Cigalike flavours available from Elf Bar. For the hands down best guide to the Elf Bar brand checkout out Ultimate Guide to Elf Bar Blog for comperhensive look.

Curious to see how Elf Bar holds its ground against the fierce competition? Dive into our epic battle of flavours in our comparison blog: Elf Bar vs Sky Crystal Pro for a showdown of disposable e-cigarette giants to find out which disposable vape reigns supreme.
Elf Bar Flavours at myCigara
At myCigara, we exist to make the UK smoke-free. We believe that offering vaping products— such as an Elf Bar disposable— as a viable alternative brings us that much closer to achieving our goal.

Ready to take that crucial first step on your quit smoking journey? Look no further than a disposable vape as your perfect vape starter kit! It's compact, convenient, and packed with flavour to kickstart your quit smoking journey.

Eager to unravel the buzz surrounding the hottest disposable vape in town? Head straight to my Elf Bar 600 Review and uncover all the juicy details about this must-have vape device that's taking the vaping community by storm.

Ready to dive into the world of Elf Bar disposables but want to learn more before taking the plunge? Look no further than my Elf Bar Ultimate Guide - your ultimate one-stop shop for all things Elf Bar vape! Get the inside scoop on each device, uncover handy hints, and unleash your vaping prowess like a pro.

If you're new to vaping, fear not! Our comprehensive Beginner's Guide has got you covered, providing you with all the essential information you need to jumpstart your vaping adventure right away.

Convinced that a disposable vape is the right e-cigarette for you? Great! Our Best Disposable Vapes To Quit Smoking blog is your ticket to exploring a world of options. Discover the top contenders and find the perfect match for your smoke-free journey.

If you have any questions, don't hesitate to contact us or visit your local myCigara store where our friendly staff are ready to help you.
Elf Bar 600 Review
Sep 21, 2023 Jemma Wolfe
Ultimate Guide to Elf Bar
Aug 18, 2023 Jemma Wolfe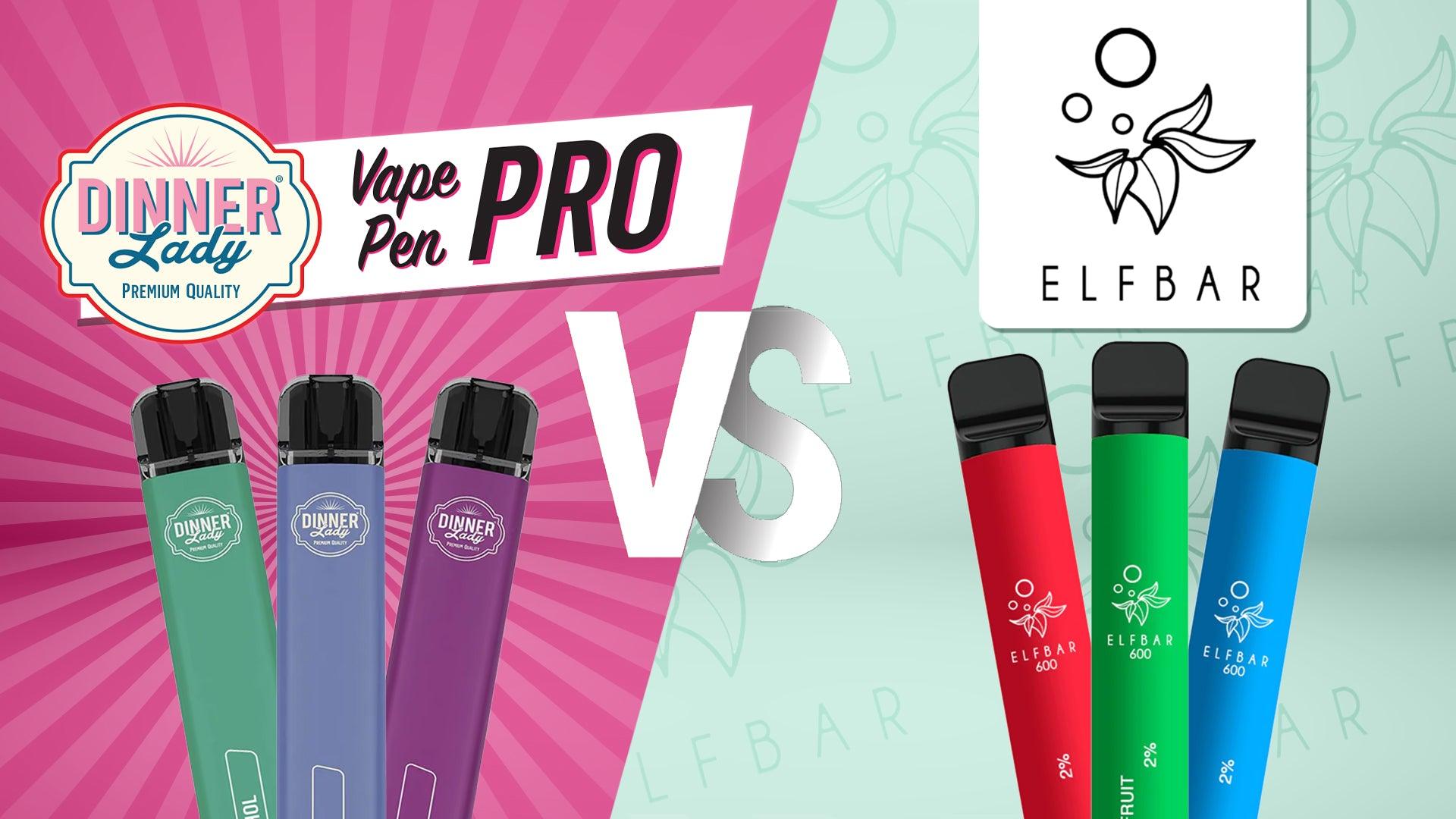 Dinner Lady Vape Pen Pro VS Elf Bar 600
Dec 12, 2022 Jemma Wolfe
Sky Crystal Pro Flavour Guide
Apr 14, 2023 Jemma Wolfe
Lost Mary Vape Flavours Guide
May 04, 2023 Jemma Wolfe
Elf Bar Cigalike Flavours Guide
Aug 15, 2023 Jemma Wolfe
Elf Bar Elfliq Flavour Guide
Aug 31, 2023 Jemma Wolfe
Top 5 Elf Bar Mate Pods
Mar 14, 2022 Theo Wilson